In this post we will configure SAP S4 HANA SD Organization Structure. We will configure all the elements of SAP S4 HANA SD and assign them to the other relevant S4 HANA organization structure elements
Time needed: 5 minutes

How to configure S4 HANA SD Organization Structure in 5 Minutes

Step 1-Create Credit Control Area

PPIN – PP INC Credit Area is created

Step 2- Assign Company Code to Credit Control Area

Assigned Company Code (PA10 & PP10) to Credit Control Area (PPIN)

Step 3- Define Sales Organization

Sales Organizations PA10-IC Car Sales Org, PP10-Elect Car Sales Org are created

Step 4- Assign Sales Org to Company Code

(PA10->PA10, PP10->PP10)

Step 5- Define Distribution Channel

(PA – Car Dealers, PB – Corporates, PC – Car Rental Companies, PD – Taxi Fleets) Defined

Step 6- Assign Distribution Channel to Sales Organization

All above 4 DCs are assigned to Both PA10 & PP10 Sales Org

Step 7- Create Divisions

(EC-Electric Car, DC-Diesel Car, PC-Petrol Car, SR-Spare Parts, SS-After Sales Service) Created

Step 8- Assign Divisions to Sales Organizations

(All Divisions assigned to both Sales Orgs)

Step 9- Set Up Sales Area

(All Combinations of Sales Orgs, Distribution Channels & Divisions)

1. Configure SD Organization Structure
We will configure SAP S4 HANA SD organization structure for our car business as per the picture below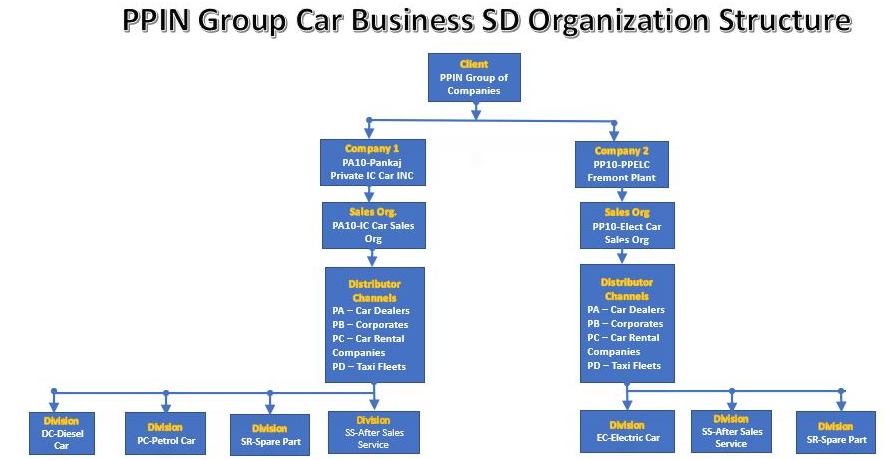 1.1
Create Credit Control Area
The credit control area is an organizational unit that specifies and checks a credit limit for customers.
A credit control area can include one or more company codes. You cannot assign a company code to more than one control area.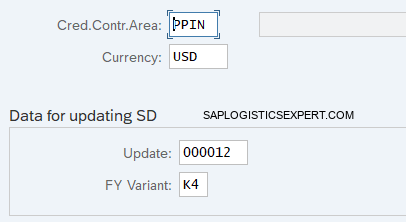 1.2
Assign Company Codes to a Credit Control Area



Note : To check Company Code related configuration. Please check FI Organization Structure 5 Minutes guide
1.3
Define Sales Organization
The sales organization is also used to take, for example, a regional, national or international subdivision of the market into account.
Sales Organization is responsible for
Distributing Goods & Services
Negotiating Sales Conditions
We will create below two sales org for our both group companies.
PA10 – IC Car Sales Organization
PP10 – Electric Car Sales Organization
1.3.1 Define Sales Organization for IC Engine Car Business

1.3.2 Define Sales Organization for Electrical Car Business

1.4
Assign Sales Organization to Company Code
This establishes a link between the SD and FI systems. A sales organization belongs to just one company code


1.5
Define Distribution Channel
The distribution channel characterizes the way in which goods and services are distributed.
For Example –
you might use a sales distribution channel (for selling products)
and a service distribution channel (for selling maintenance and repair services).
For our company let's create below distribution channels
PA – Car Dealers
PB – Corporates
PC – Car Rental Companies
PD – Taxi Fleets



1.6
Assign Distribution Channel to Sales Organization
A distribution channel can be valid for several sales organizations.
We will assign above distribution channels to our both sales organization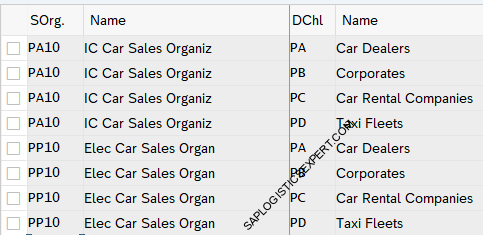 1.7
Create Divisions
We can group materials and services using divisions. We can therefore restrict price agreements with a customer to a particular division.
Created below divisions for our both car companies
EC Electric Car
DC Diesel Car
PC Petrol Car
SR Spare Parts
SS After Sales Service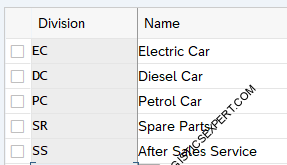 1.8
Assign Division to Sales Organization
Please note that Division related to Electric Cars should not be assigned to IC Car Sales Organization & similarly Divisions related to Diesel & Petrol cars should not be assigned to Electric car sales organization.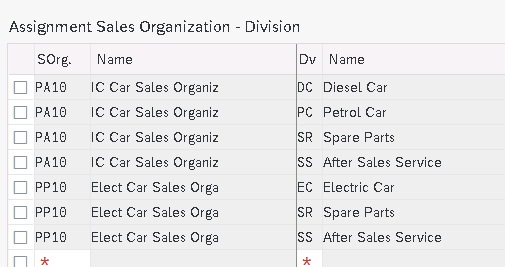 1.9 Set Up Sales Area
A sales area is a combination of one sales organization, one distribution channel, and one division.
A sales area defines the distribution channel a sales organization uses to sell products from a certain division.
Below is the list of our sales areas created for our both Car companies
PA10 (IC Car Company) – It will not have Electric Car Division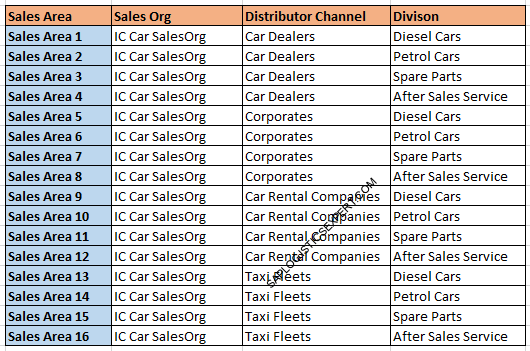 PP10 (Electric Car Company) – It will not have Petrol Car & Diesel Car Division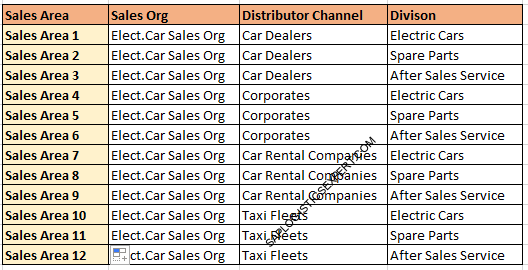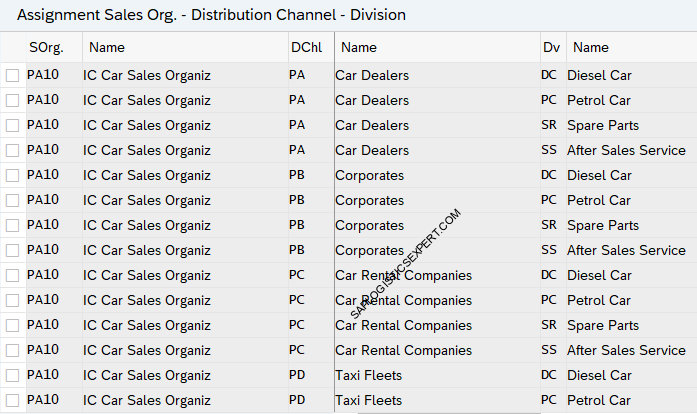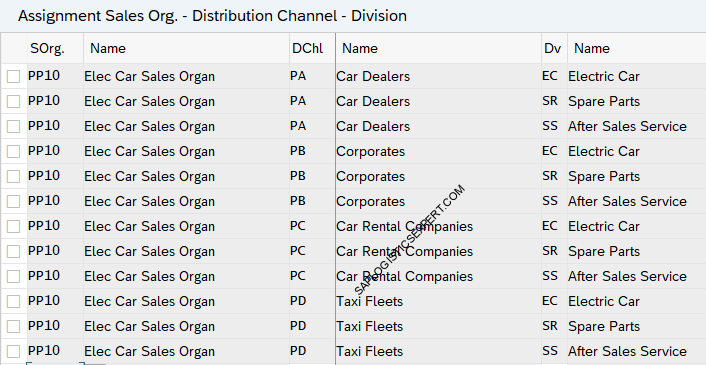 SD Organization structure completes here.
In the next post we will configure Material Management & Logistics execution organization structure
In the previous post, we have configured minimum necessary Finance Organization structure to run our business scenarios. Click on the above link to read in detail.
In the next post we will configure minimum possible MM organization structure required to run our business scenarios. Click on the above link to read in detail